Having great content is one thing – generating high-quality organic traffic with it is another. That's why researching the most promising keywords is essential. Without technical help? Impossible! It's high time you got to know the most important keyword research tools better!
Getting started with keyword research
In the beginning, was the word! Every on-page optimization starts with keyword research. The goal is to appear in the first place in the search results if possible. So also for this discipline, you need keyword phrases, which users use especially often.
To get the first insight, you can experiment with Google Suggest (also Google Autocomplete). Here, suggestions are displayed when the first letters are entered in the Google search. To get phrases with a different structure, simply insert asterisks (*) as placeholders.

What keyword tools do
Keyword tools prevent you from continuing to fish in murky waters. There are many tools for keyword research. But which one will provide you with the right keywords for your content? Are free tools just as recommendable as paid ones? We have tested the most popular products for you.
Keywords Everywhere
The free keyword research tool Keywords Everywhere is a browser-based plugin and can be easily integrated into Chrome and Firefox. When you call up the Google search engine and enter a search term, the monthly search volume, the CPC, and the competition of the entered keyword are displayed directly.
Related keywords are displayed by Keywords Everywhere on the right side after a corresponding Google search. This way you are guaranteed to find the right keywords for your content! Furthermore, the results can be downloaded via Excel, CSV, or PDF. The keyword research tool provides you with the exact results of the Google Keyword Planner without the annoying log-in.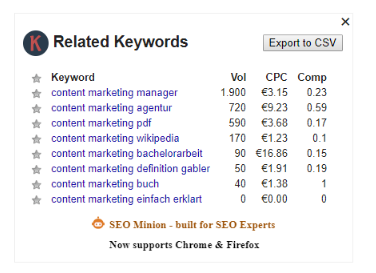 Answer the Public
The keyword research tool Answer the Public gives you a particularly clear overview of the insights of potential customers. Based on the search results of Google and Bing, it provides a variety of word combinations in the form of mind maps. The keyword paired with question words and prepositions reflects the needs of the user. Answering the questions helps the user to produce suitable content. Users can download the results. The special feature: You receive your results as an image file.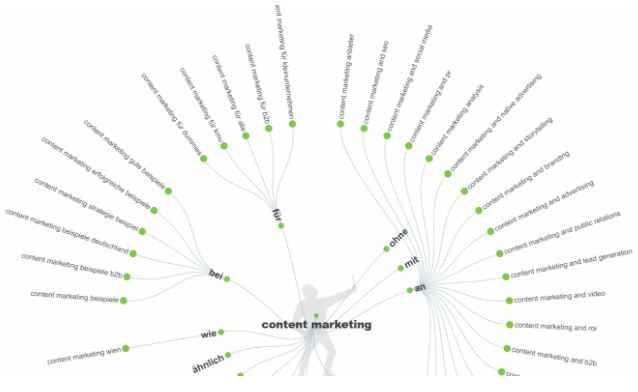 Conclusion
Of course, there are many other keyword research tools. Even many all-in-one SEO tools and suites are capable of performing comprehensive keyword research. Ultimately, what matters is what your requirements are. Often it is also useful to combine several tools.
Tools like Hypersuggest or keywordtool.io provide you with a particularly high number of keywords. But be careful: Quality goes before quantity. Therefore, evaluate the results critically. Too quickly, you can focus on the wrong keywords and damage your SEO.